Chef Kareen "Coco" Linton is now a member of the NEWCHEF Elite!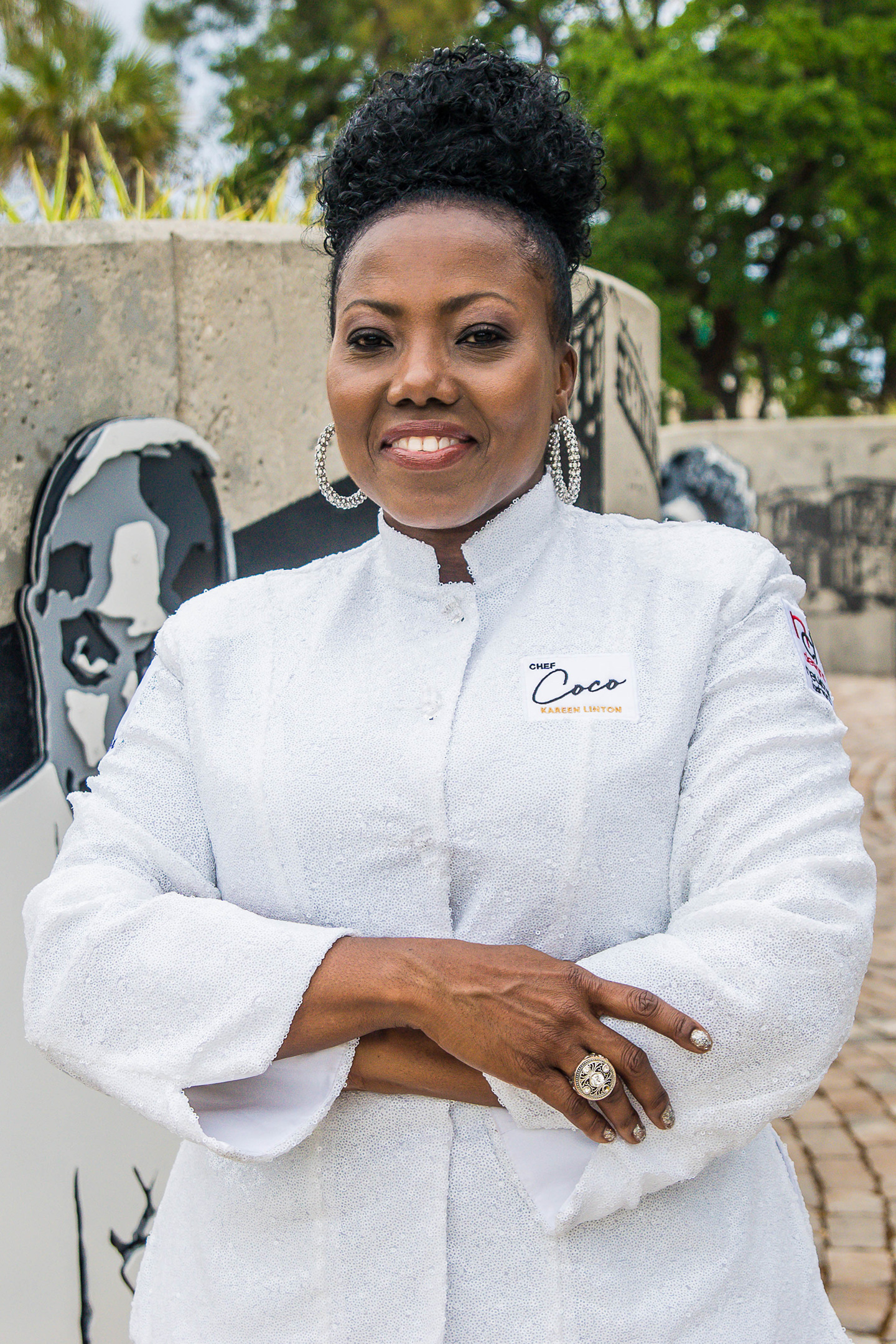 With an extensive career in the kitchen, Chef Coco has established herself as a member of various organizations including Disciples d' Escoffier International USA, American Culinary Federation, and Confrérie de la Chaîne des Rôtisseurs. Most recently she was invited to sit on the Community Advisory Board for TrueCore Behavioral Solutions. Chef mentors the teenage girl in the Les Peters juvenile Program in Tampa, Florida. She devotes herself as an education advocate for various culinary schools including Aguste Escoffier School of Culinary Arts. You could assume that her achievement plate is full however, she uses a passion bucket to continue her endeavors in the culinary world. Some of these ventures include the design of her own Coco Collection brand of chef jackets, knives and housewares. The Kareen "Coco" Linton Collection will be unveiled at this year's ACF National Convention in Orlando. Stay tuned!
---
What inspires you to cook?

People! I love meeting and inspiring others to enjoy life and food is my vehicle. It gives me the access needed to do so. We should all meet at the table to celebrate life and great food.
When did you know you wanted to become a chef?

In 2009, I was living in Nashville, Tennessee and was going through ministry. One Sunday while at the altar, I literally heard a voice say; "Your ministry is beyond the four walls!" Several days later, the same voice said; "Feed the people!" I've been doing just that ever since then. My journey has also led me to being a Culinary Educator at my alma mater, Le Cordon Bleu College of Culinary Arts and currently Escoffier School of Culinary Arts.
What is your signature dish?

I love to create sauces! So any opportunity I have to develop a great sauce, I do. I would have to say a sautéed airline chicken breast in a rich and decant, spiced whisky and mushroom sauce.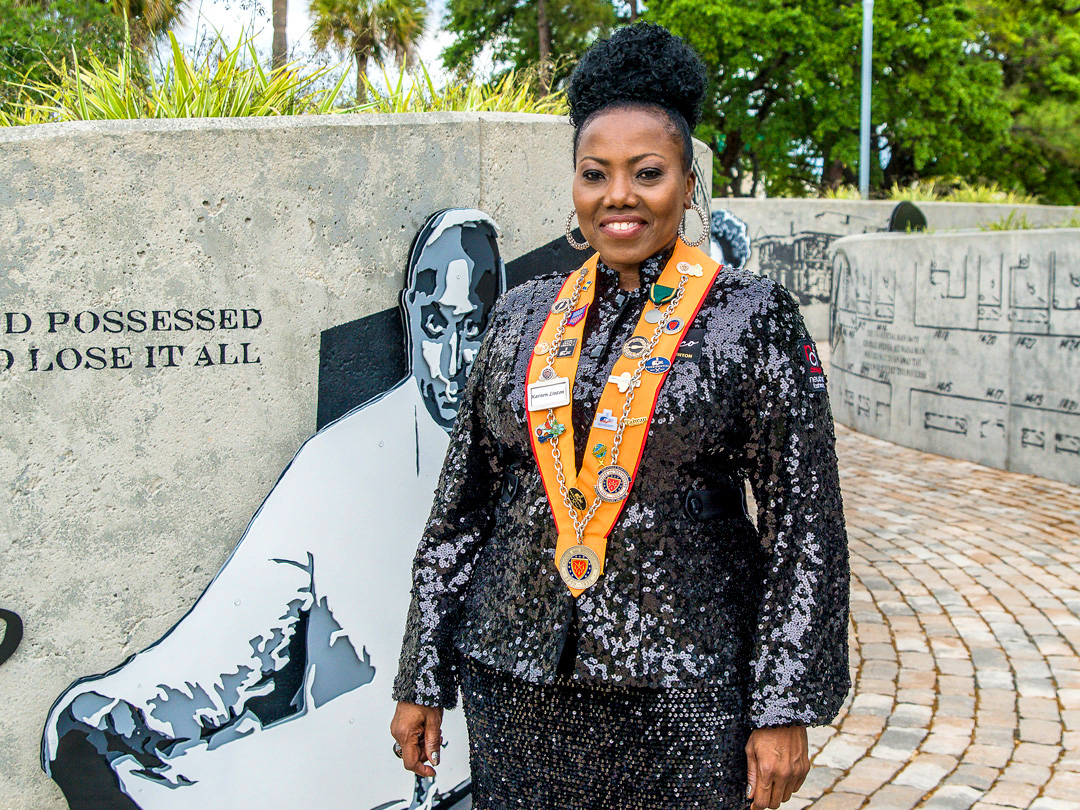 Coco is an established member of Disciples d' Escoffier International USA, ACF, Chaîne des Rôtisseurs and National Black Chef's Association.
Who do you look up to as a chef?

My mother, who was a chef, but she passed on a year ago. She was from Barbados and so am I! She was able to transcend any ingredient to higher heights, I wanted to be able to also add the magic in my own way. As an artist, I take every ingredient and manipulate them to bring out their best offerings.
What is your biggest pet peeve in the kitchen?

My biggest pet peeves are sanitation and disorganization. A team that respects and practices these key components within the kitchen atmosphere, will be able to execute better production flow, and an overall healthier kitchen environment.
What is the one ingredient you can't live without?

The one ingredient I can't live without would be onions! Personally, I don't like the texture and mouth feel of the yellow and white onions, but as a chef I truly value them. Onions are layers and layers of greatness that add flavor, color and depth to many of my dishes. I love to use all species of the onion family, but my favorite is the shallot.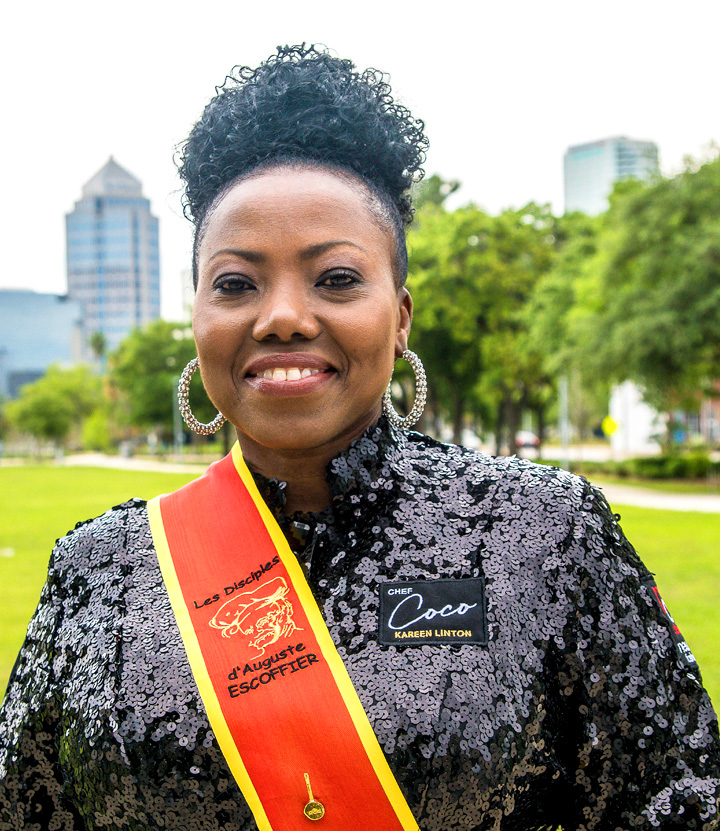 The Kareen "Coco" Linton Collection will be unveiled at this year's ACF National Convention in Orlando.
What is your go-to meal when you're low on time?

My go to meal is polenta with a pan seared red snapper in a shallot and herb sauce. This dish reminds me of our main dish of Barbados, Cou Cou and flying fish. The original dish is made using fine yellow cornmeal. Reminds me of my grandmothers cooking, when I was a little girl in Barbados. Such great memories!
What is one food that you absolutely cannot eat?

Shellfish, I'm allergic. I know, I miss out on lobster! Darn! I discovered this allergy back in 1983 when I was the hostess of the main restaurant at Window on the World restaurant on top of the former World Trade Center in New York City. Thank God, I didn't break out in hives.
What else is in store for Chef Coco in the next 5 years?

Changing the world with Coco Collections and New Chef Fashions. Extending the Coco Collection brand, into a knife collection, housewares and within the next year opening my culinary, beauty and fashion academy in Tampa, Florida. My goal is to inspire and train our students that the gift of art is all about improving our lifestyles. They will also be taught how to respect the industry, the importance of learning technique, honing their skills and networking.
What event that you have been a part of has been your favorite one?

There are quite a few, but I would have to say, graduating from Le Cordon Bleu College of Culinary Arts, being awarded the National American Culinary Federation's "Cutting Edge" Award, #6. Being inducted into the Confrérie de la Chaîne des Rôtisseurs and the Disciples of Escoffier International-USA.